Parish
Our Lady of Perpetual Help Parish, North Belconnen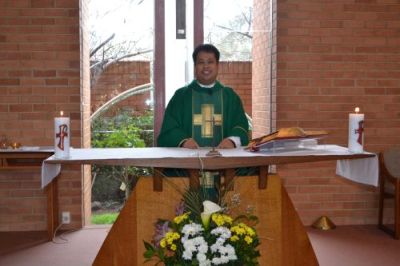 Dear Parents,
I thank you for considering a Catholic Education for your child. St Michael's belongs to the Our Lady of Perpetual Help Parish, North Belconnen. St Michael is the patron Saint of our School. The school has been very successful, and constantly committed, in providing good foundations for your child's learning, not only in academics but also in faith values.
St Michael's School is not just concerned in developing your child's individual skills, capacity and potential. It also moulds your child's ability to understand, grow and believe the 'sense of community and belonging', wherein the virtue of 'Harmony' and appreciation of individual and cultural differences are very much respected and acknowledged. That is, diversity as the foundation of St Michael's School Community, in learning and growing together through prayer, study and action guided by Catholic values and knowledge of God. The school also provides venues for children to develop a personal relationship with God through prayers, Holy Eucharist Masses and Sacramental programs.
We hope that as they grow physically, mentally and spiritually, they may be able to enact within their own family and community, the virtues they learn, the good attitudes they develop and also share their personal relationship and understanding of God's love to others.
I can assure you that St Michael's teachers and staff are dedicated to the well-being and education of your children. God bless you all.
Fr. Luis 'Loi' Viovicente
Parish Priest
Our Lady of Perpetual Help, North Belconnen Parish
Parish Administrator

Pastoral Assistant

Father Loi Viovicente
Email: luis.viovicente@cg.org.au

Sr Kate McMahon
Email: k.mcmahon3@bigpond.com

Website
www.cg.org.au/belconnennorth
Address
Tyrrell Crt, Kaleen ACT 2617
Phone
(02) 62413364
Fax
(02) 62410747
Mass Times
St Michael's Church (Sunday 8am and 5.30pm)
St Monica's Church (Saturday 6pm & Sunday 10am)
Weekdays - Tuesdays and Thursdays 9.30am (St Michael's Church) & Wednesdays 9.30am and Fridays 7.00am (St Monica's Church)

Please contact Fr Loi Viovicente for Baptisms, Weddings and Funerals