RE News: Meaghan Younger
Religious Education Curriculum
Parables in the Bible
Parables were an important form of storytelling in the time of Jesus. In the Jewish community it was a well-known form of story. We today are also familiar with another type of story with a message – a fable, like Aesop's fables. Some of Jesus' most well-known fables are the story of the Lost Sheep, the Prodigal Son and the Good Samaritan. It is important when discussing these stories that we remember they are not events in the life of Jesus but rather stories he told for a purpose; to communicate a particular message. This does not negate their importance, nor does it mean they are not 'true' but rather that they must be read as the type of 'story with a message' they were meant to be.
We must ensure we understand the context of the story as well. I vividly remember trying to teach Year 2 in the Monaro about the parable of the Lost Sheep and for the life of them, the sheep farmers' children could not work out how anyone would notice if one sheep was missing. Our Australian paddocks of thousands of sheep are very different to the smaller flocks shepherds minded in the Middle East in the time of Jesus!
Similarly it is important to understand the love/hate relationship that existed between Jews and Samaritans to fully appreciate the amazement Jesus' initial audience would have had at his story of the 'Good' Samaritan.
Students in Kindergarten and Years Three and Four are currently exploring different parables told by Jesus. What a wonderful opportunity to relook at these well-loved stories with fresh eyes and learn something new from them ourselves.
Religious Life of St Michael's School Community
Our Lady Help of Christians
Last Monday, 25th May, was a very special day in the Australian Catholic Church calendar. It was the Feast of Our Lady, Help of Christians. She is Australia's first patron saint and remains such even after St Mary MacKillop of the Cross was canonised and added as Australia's first Australian born patron saint. Children at school this week are taking part in creating large scale 'rosary beads' in honour of this special day. Perhaps it is an opportunity for your family to pray the rosary one night this week and talk about the importance of Mary, Jesus' mother and our spiritual mother too.
Pentecost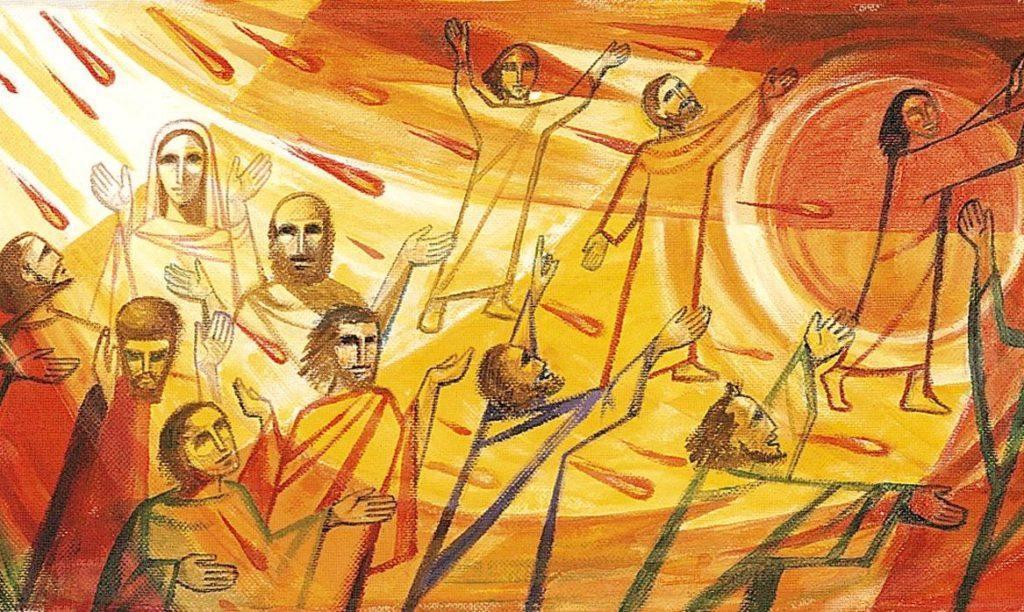 This coming Sunday is Pentecost Sunday. We celebrate thebirth of our Church and the coming of the Holy Spirit into the Apostles and to us as well. Here is a short clip explaining this special day in our Liturgical Calendar:
Sewers Needed Please!
Thank you to Yurong Chen and Tanya Butler for the beautiful sewing completed lately!! We have some more stoles that are in need of hemming. They are used for our Year 6 Graduation and Blessing but I'm hopeful of having them finished before the end of September. If you are a sewer and can help out please contact Meaghan at school. Thank you.
Sleep Out @Home
Thursday 18th June is the CEO Sleep Out night. You are invited to join in this initiative to raise awareness of the hardships of homelessness, as well as money and Winter Woollies, to support St Vincent de Paul look after those in our own community in need. This year we will 'Stay Safe and Sleep Out @Home'.
We will upload our Sleep Out @Home package of activities to the St Michael's Remote Learning website just prior to the evening.
The evening offers opportunities to find out about homelessness and to experience in a small way the hardships suffered by the homeless. All families are most welcome to take part from home this year.
There is a button on QKR! for charity donations which we will send on to St Vincent de Paul Night Patrol to support their fabulous work in our local community. We look forward to seeing your family photos of how you become involved in this important initiative – there will be a post on our Facebook page on the evening.
Mini Vinnies' Winter Woollies PJ Day
Friday the 19 June, following the Sleep Out @Home for many families, all students are invited to come to school in their pyjamas. Students are asked to bring in winter woollies for donating to St Vincent de Paul for this day. St Vincent de Paul tell us they are in desperate need of new warm socks, gloves, good condition pre-loved warm jumpers and jackets and warm blankets. Donations can be dropped to the Front Office to keep them in one consolidated area.